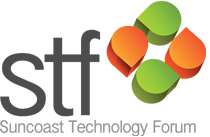 Will Your 2015 IT Roadmap Drive Business Success?
Are you ready to evaluate, plan, and implement a successful 2015 strategy?
Sponsored by Suncoast Technology Forum & 4cube
In this entertaining, fast-paced, educational session, we presented a summary of the best of 2014 industry research addressing:
What does a winning business and IT Roadmap for 2015 look like? What is beyond the shifts of cloud, analytics, mobile, and social?
What are the best practice business model, IT strategies already being put in place, as identified by the top leaders in IT industry, McKinsey, and Harvard?
What are insightful, practical, pragmatic IT plans and actions that I can immediately begin to apply to my business, today?
If you weren't able to join us for a dynamic, energizing tour de force, you are welcome to see and download the presentation in full Powerpoint here.


The upcoming January 20th, 2015 Suncoast Technology Forum CIO Panel is on a similar topic - so you have a 2nd chance. Go here for information or to register for that event.


The Polo Grill and Bar
10670 Boardwalk Loop, Lakewood Ranch, FL 34202
About the presenter: John Sing
Click Here for a Preview of the Speaker
John Sing is an IT Strategist, Executive IT Architect and visionary, known and recognized worldwide, with over 40 international IT conference speaker invitations over the past decade. Most recently with IBM prior to his current position, John's energetic, insightful, influential thoughts have been central to speaking invitations and consulting worldwide on wide variety of IT topics including Enterprise Infrastructure, Petascale Big Data, Modern Analytics, Internet Scale Architectures -Workloads - Data Center Design, Cloud Computing, Mobile and Social Disruptive Innovation. John enjoys distilling and sharing the world's best-of-breed research and answers to today's pressing IT issues, in clear and memorable stories. With more than 20+ years of enterprise, mid-range, and international experience, he is currently the Director of Technology at 4cube.
The October 2014 Suncoast Technology Forum Luncheon is presented by: